I feel it's quite understandable that I haven't been posting because Thanksgiving.. But I still feel a bit bad for letting my blog sit so quietly. So here's what I got. As Christmas is coming up, I've been doing a bit of present and ahem personal shopping (I mean let's face it those deals are too good to not buy something for yourself amirite) and I've found some neat shopping - mostly online - that I feel I should share.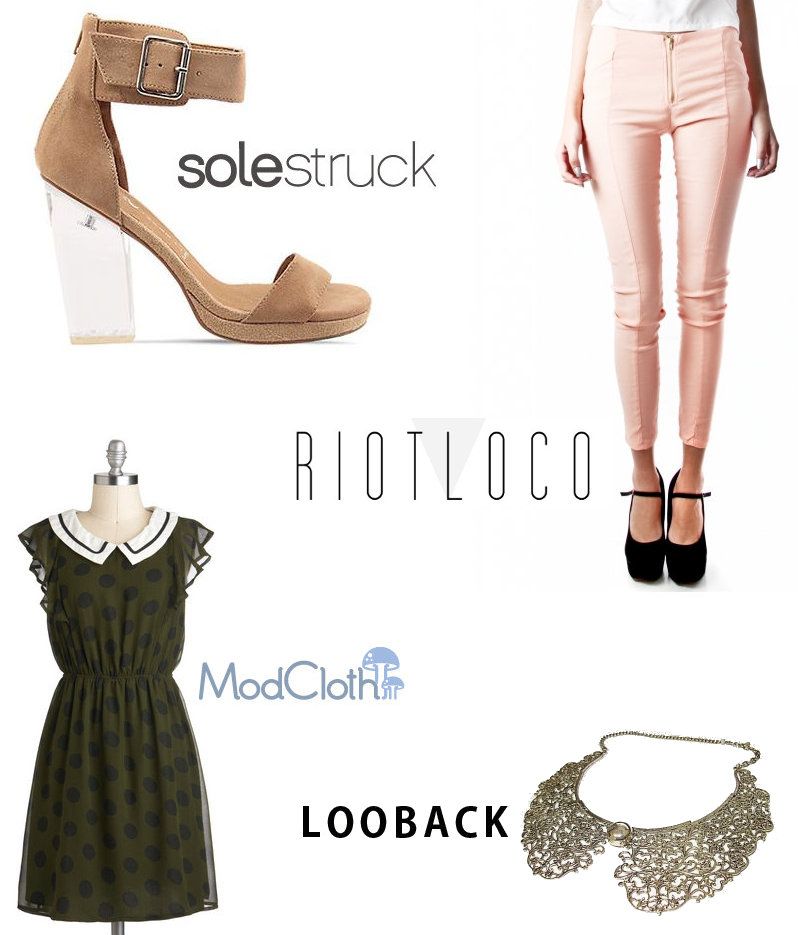 WholeSale-Dress
This site is kind of hard to believe. They sell quality dresses and sweaters and whatnot for insanely cheap. It's like online thrift shopping sans the whole second-hand part. I found this site a looooong while ago, and I must say my favorite part of it are the sweaters. Anyway, it's worth a look if nothing else.
Looback
They don't seem to be that well-known, which is sad really because they have beautiful accessories for ridiculous prices and free shipping to anywhere in the world. I checked them out on the recommendation of CutiePie Marzia on YouTube - an adorable young Italian fashion guru - and I don't know how I've lived this long without knowing about this site.
Solestruck
I doubt there are many fashion addicts left out there that haven't heard of Solestruck. It's pretty much the place to go for all the IT shoe designers these days. Jeffery Campbell, Dolce Vida and Dr. Martens just to name a few. I AM IN LOVE with the shoes over there.
Chicnova
I don't really have too much to say about this site beyond the fact that they have mad cute stuff and I would definitely recommend you check them out. The stuff is a little pricey, but if you love vintage as much as I do it's worth a look for a piece or too. I personally love their accessories and the prices on those aren't too bad. But yeah, overall.. very vintage, very comfy, and very cute.
RiotLoco
This site definitely features more 'cutting edge' fashion, or at least as close as us commoners can get, heh. Their pieces are very interesting and DIY-esque; odd cuts, ombre and prints galore. Very Tumblr. They are a bit on the pricey side, which is the ONLY reason I haven't purchased from them yet. The Fashion Citizen over on YouTube have a few videos where they style some clothes from RiotLoco if you're curious to see them in action, so-to-speak.
And last but certainly nowhere near least...
ModCloth
My friend literally just showed this site to me today and I CANT STOP. They essentially sell my style left and right. It's brilliant! Again, a bit on the expensive side, but the dresses and prints and SHOES are just gorgeous. They seem to cater to a more vintage-y, girly tailored type sense of style, which I LOVE. Lots of classic cuts and retro patterns and cinched waist lines. I'm totally spamming my relatives with this site for Christmas, man. I need one of those dresses. It's just that serious.
Well, there you go. That's pretty much been my life recently besides work and school and Sherlock (yeah that happened) and Thanksgiving. I can only hope this will make up for the horrible lack in actual fashion posts until I can get the inspiration - or new clothes - to do a shoot. Meh.