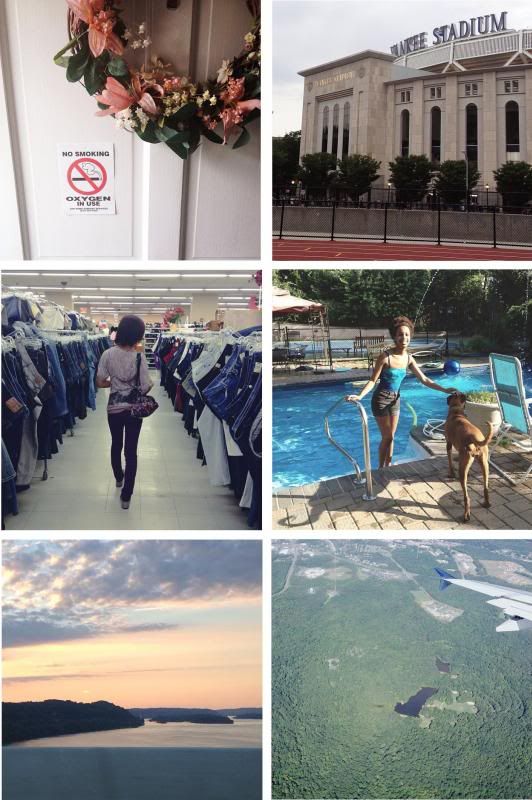 Previously on Instagram.. A trip to New York

1) My grandpa came home from the hospital.
2) My uncle took us to the Yankee Stadium.
3) I found a Savers in Hempstead
4) Visiting my uncle's house
5) Driving beach side
6) Flying home
So, if you're reading this you may be wondering where I've been all summer. Well there's no easy way to answer that. So I'll just tell it like it is.
Get comfortable.
In early June my grandpa got really sick. He's been fighting bone cancer for as long as I can remember, and doing pretty great considering. But it spread recently and a whole slew of complications ensued which ended up with him being admitted to the hospital. My mom flew up to New York for support, and just to be with her dad in case something happened. And my sister and I later made the trip up there to see him while we could. That particular trip was one of those where just about everything that can go wrong did. The car broke down and died so we ended up staying with a distant relation (but they cooked West Indian style dinner for us with all the meat and all the sides so all was well). Then we were too early for the Megabus in DC - too early! can you believe it? - so we had to buy new tickets. We rode that into New York city and arrived around 1am. That's a five-ish hour drive with all the stops and that bus is not a nice bus. Since it's still a decent drive out to Long Island where my grandparents' house is, we took the subway to my great aunt in Brooklyn and spent the night. We didn't actually get to my grandparents' house until the next morning, and then it was only to drop off our things and head straight to the hospital. Yeah, it was one of Those Trips. The ones you have to capitalize for reasons. But I would make it 12 more times for that look on his face when we walked into the hospital room. It was a much needed little break from life to just be with family and although I'd have preferred to visit under better circumstances, I really did enjoy being in New York again. Plus I flew alone for the first time which was scary and exciting! I had to come back to Atlanta for a week so that I could take care of some things at my flat, and then I flew back up. They were both connection flights so I had to really pay attention and be a big girl about it and whatnot. I also got to use the Passbook App on my iPhone for the first time which was pretty nifty. So not an entirely way to spend the summer.
Now rewind to about 2 weeks before we left for New York. It's the beginning of July I'm sitting in my living room at my flat. The clock reads 11-something pm my roommate has just arrived to tell me something. As it happened she decided she wanted to move out. Pretty much out of the blue. Okay, that's cool. I could have done with a little more warning as our lease in up in about a month but fine. So like any sensible person would in that situation I cried and felt betrayed and went on with life. I mean I was pretty close to this girl, we'd lived together happily for 2 years and were friends besides, but the reality was that I needed to figure out what I was going to do for this next semester; find a new roommate or move. And I had a little less than a month to do so.
However it doesn't end there, if you've ever leased a flat then you know that you can't just clear out because the lease is up. You have to give notice, and the management office has to inspect the flat so you can get your security deposit back and make sure you're square with payments and all that fantastic bureaucracy. Annoying, but expected. Well, it was for me anyway. Not so for my roommate. So now she's gone off and left me with a lovely bill for the two months we have to pay to cover our 60 days notice to vacate (if you couldn't already tell I ended up having to move out).
I don't know if this all is considered too personal to share.. But I figure I've left this blog sad and alone for basically the entire summer and I owe my readers - yes all five of you - an explanation as to why. Plus I've found that talking/writing about it helps me deal with everything a little better. So yeah, in a nutshell my grandpa got worryingly ill and I had to go to NY, I spent basically forever job, roommate and flat hunting in that order, (and continue to stress myself out over all of the above) and trying to enjoy the summer a bit in between. I did manage to sneak some fun in believe it or not. And I ended up having a lot of help packing and such from some fantastic friends of mine, which was pretty enjoyable considering I loath, despise, and all around hate moving and everything it stands for. I'm really reluctant to leave my old flat, but I've been backed into a corner.. On the plus side my new roommates are as upset by the situation as two people you've pretty much just met can be, so I have high hopes of not having a repeat of this with them. But who knows 'cause I never would have pegged my old roommate as someone who would pull this nonsense either. I mean, it's not like skipping out exempts her from owing the money, so I don't really get it. I guess you never really know a person. Especially when there's money involved.
Man, when I turned 20 back in March I'd hoped to have some more interesting things go down, but this is NOT what I meant. If this year wasn't a sudden drop into adulthood then I don't know what is.
---
I do, in fact have some good news though guys. Jacque of
Shop Lioness
featured me on her blog as
Lioness of the Week
this week. She sent me some questions that I over thought the answers to and put them together with some photos in a little spiel about me on her blog. If you're interested in reading my ramblings on someone else's page, click the
LINK
and go check it out!